Cause Film Festival 2019
Public Voting
These are the Top Ten Films for the 2019 Cause Film Festival.
Please review the synopses of the films below and then hit "Vote!" to vote for your favourite filmmaker or charitable cause! The films will be screened on the Awards Night at the Riverside Theatre Parramatta.
Opt in to our mailing list for a chance to win Gold Class tickets for 2 to a movie of your choice - we promise we don't spam our mailing list!
TOP TEN FILMS FOR CAUSE FILM FESTIVAL 2019
It is a relaxing Sunday morning. Drew and Liesel relax with books while their son, Arlo, happily runs around the backyard in his favourite fairy dress. Then there is a knock at the door, a surprise visit from Liesel's conservative parents...

Wayne Tunks: Director/Writer/Producer
Nicholas Price: Producer
In parts of Uganda, Child Sacrifice is a new phenomenon masquerading as old tradition. These are the stories of people affected by Child Sacrifice and the people behind the organisation trying to put an end to this modern evil.
Nick Andrews: Director
Struck by tragedy, a married couple goes ahead with their anniversary party, when an unusual guest arrives.
Lisa Belcher: Write/Director/Producer
Christian Olteanu: Producer
Lukas Hassel: Writer
Last Seen Alive (lifeline)
A short film about the moments in time after we are last seen alive.
A chance encounter brings mutual comfort as a broken man connects with a young woman bearing her own crippling sadness.

Dan Walls: Director/Writer/Producer
The definition of hero is a person who is admired for their courage, outstanding achievements, or noble qualities.
Just over two years ago, Ali and Tom heard those agonising, heartbreaking words that no parent ever wants to hear. At just five years old, Milly was diagnosed with Acute Lymphoblastic Leukaemia (ALL).
Milly, with the support of her parents Ali and Tom, younger brother, Archie, and older sister, Alani, spent the last two and a half years fighting ALL. A film of hope, determination and courage; Milly teaches the viewers the true definition of a hero.
Lily Drummond: Director/Writer/Producer
Old fart (University research into ageing)
The silver haired gent can be spiritual but he's cranky and fading to invisible. Having trouble believing in his worth, he hires a film crew to tell us about his predicament.

David O'Brien: Director/Writer/Producer
A young boy on a quest to help the homeless one bag at a time.

Corey Booth: Director
Jillian Tunbridge: Writer
William Pacquiao: Producer
A retired SAS veteran and his son employ an unorthodox approach to deal with perpetrators of abuse.

Mark Hensley: Director/Producer
Peggy Lewis: Writer
The horses (The Thoroughbred and Veterans Welfare Alliance)
Max, a traumatised war veteran, finds healing working with a traumatised ex-racehorse.
Nick Barkla: Director/Writer/Producer
Robert Drane: Writer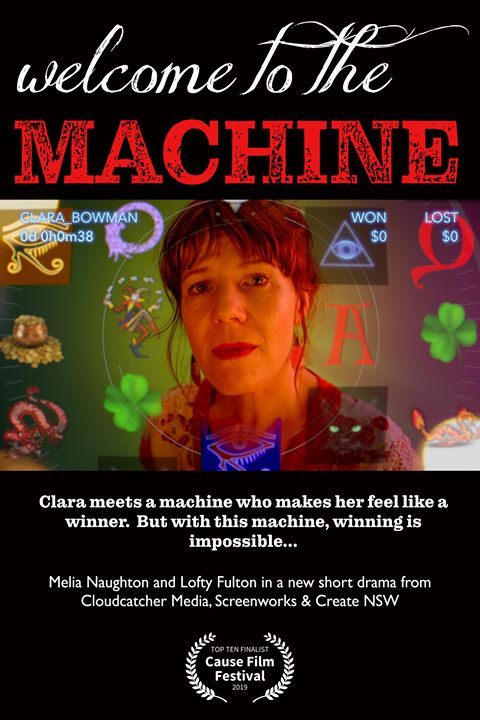 Clara meets a machine who makes her feel like a winner. But with this machine, winning is impossible...
David Lowe: Director/Writer/Producer
Eve Jeffery: Writer/Producer